Why choose J Dickinson for skip hire in Leigh?
Whether you are looking to extend your house, revamp your garden or your business is hosting a large event, we have the skips for you, tailored to your needs, whenever and wherever you need them.
No matter the size of the job or how long it'll take to complete, at J Dickinson & Sons we have a wide range of competitively priced skips to choose from in Leigh.
If you live in Leigh, skip hire doesn't have to be a headache.
In fact, to make the whole process as easy as possible for you, we will:
we aim to recycle 100% of waste safely and responsibly
arrange convenient next day delivery should you require it (subject to availability)
We can't say fairer than that.
Plus, the majority of skips we hire out in Leigh and the surrounding areas are easy access for loading, which significantly reduces the need for heavy lifting, too.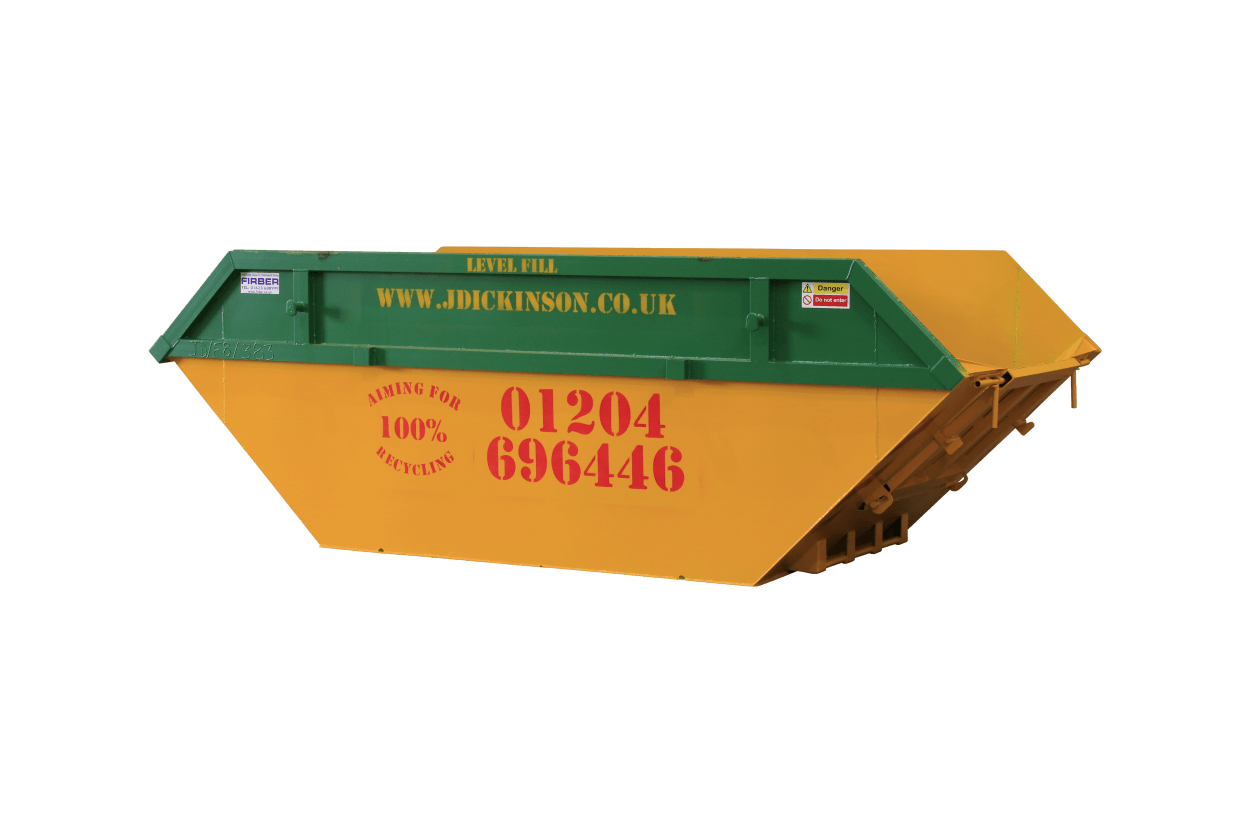 Need a domestic skip in Leigh?
We accommodate for both domestic and commercial skip hire jobs that require waste containment and removal.
Home Clearance
For small household jobs in Leigh, our 2 cubic yard skips hold between 20 and 30 large bin bags.
Garden Clearance
If you require a skip for a small to medium gardening project, our 4 cubic yard skips are the perfect size.
Construction Clearance
Need a skip for a large building job? Our 8 cubic bucket skips hold between 80 to 90 bin bags.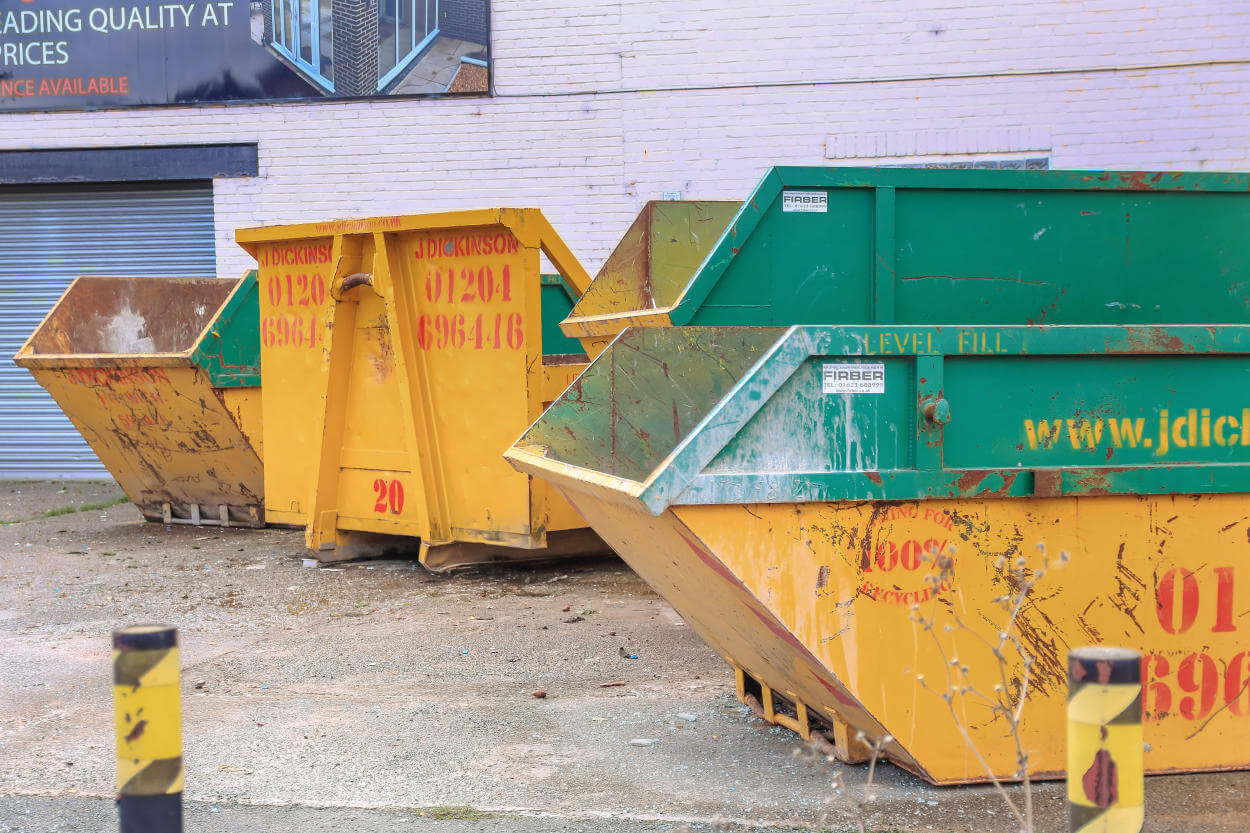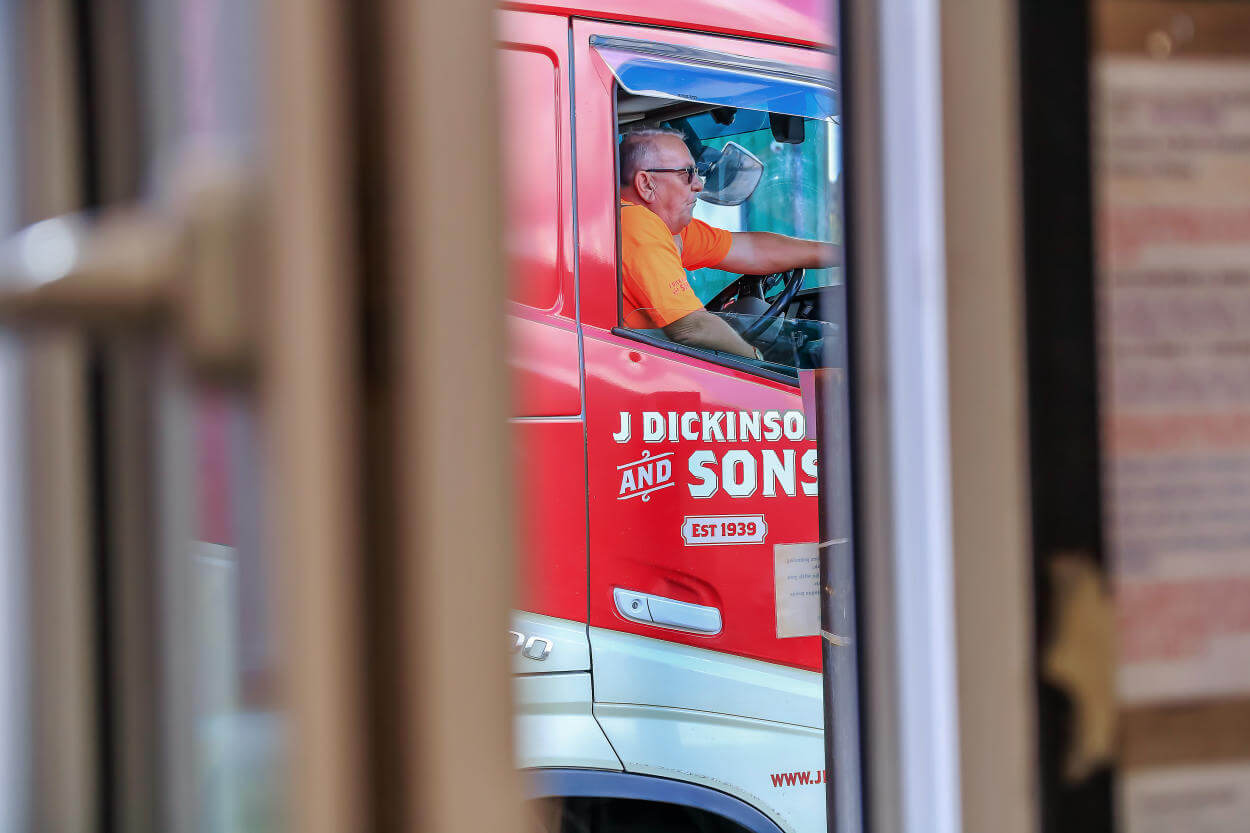 Need a commercial skip in Leigh?
As well as domestic skips, we also provide a range of skips for commercial use.
If you have a big commercial project lined up or you find your business is generating a lot of large-scale waste, our commercial skips – ranging from 8 to a whopping 40 cubic yards – can handle the load.
Waste paper & cardboard removal
Offices can end up producing a lot of waste paper and cardboard. For many industries, this is inevitable. Our 8 cubic yard skips are perfect for containing your waste paper and cardboard; which can be transported to our 17-acre on-site recycling facilities.
Office clearance
We also provide skips suitable for extensive office clearances if you're in the process of moving offices or renovating.
Our skip sizes for hire in Leigh
Domestic Skips
2 cubic yard skip
4 cubic yard skip
8 cubic yard skip
Find out more information about our range of domestic skips for hire in Leigh here or contact us today for a quote.
Commercial Skips
2 cubic yard skip
4 cubic yard skip
8 cubic yard skip
14 cubic yard skip
20 cubic yard skip
40 cubic yard skip
Find out more information about our range of commercial skips for hire in Leigh here or contact us today for a quote.
How much is it to hire a skip in Leigh?
Our skip prices will vary depending on length of use, purpose and size required.
The price of our skips vary depending on factors such as the length of time you need them, what you intend to put in them and the size you require.
If you'd like to speak to one of our experts about our skip hire prices, call us on 01204 69644. Alternatively, to find out more about the different skip types we offer in Leigh, see below.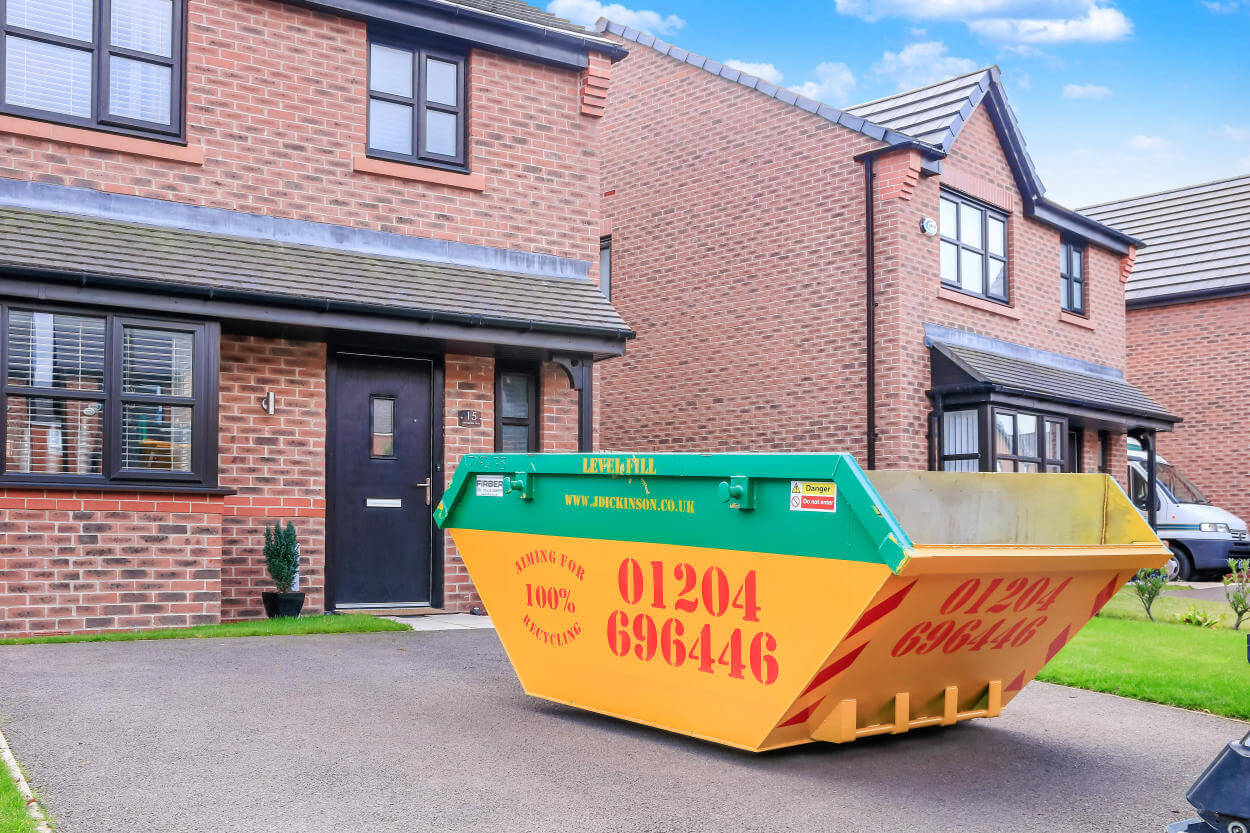 Are there any extra costs to hiring a skip in Leigh?
The only potential extra cost to you might be if we need to drop your skip on a public road. In this instance, a permit will be required from Leigh council, we can arrange this for you when you book your skip. Some items are charged additionally, for example matresses, and tyres etc.
Unsure an item you want to put in one of our skips? You can contact us on 01204 69644 to find out more.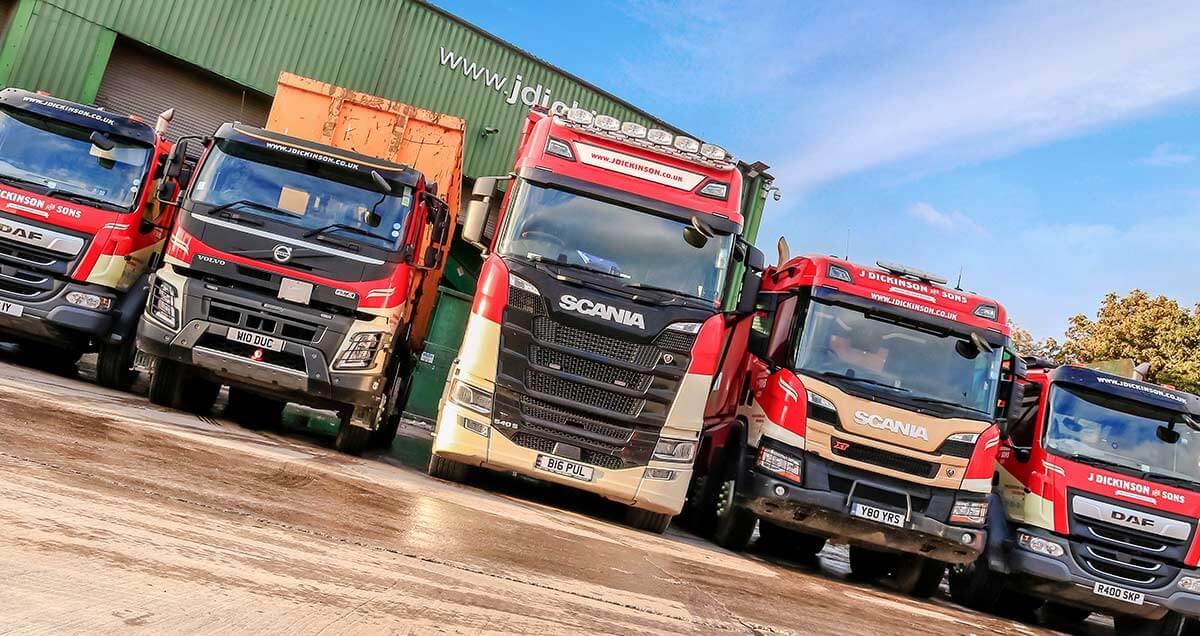 Skips available in the Leigh area
Leigh skip hire FAQs
What can I put in a hired skip?
Our skips will take a wide range of waste, catering for most of our customers' requirements. Here are some of the items you can put in our skips:
General waste
Bricks
Wood
Rubble
Furniture (usually broken-up)
Plastics
Non-electrical fittings
Furnishings
Cardboard and packaging
Metal
Leaves and branches
Garden waste
Glass
Mattresses (these are charged additional to your skip hire charge)
If you have any questions about the type of waste you wish to dispose of, you can contact us here.
What can I not put in a skip?
There are some items that can't be put in a skip: usually because the materials are hazardous or harmful, so will need to be disposed of in another way. This includes, but not limited to, the following:
Electrical equipment
Asbestos
Gas cylinders
Batteries
Solvents
Fuel
Paint
Medical waste
Plasterboards
Mattress
Glass
If you have any questions about the type of waste you wish to dispose, you can contact us here.
What is hazardous waste?
Hazardous waste is considered to be waste that poses a risk to public health and the environment. Some examples of hazardous waste include solvents, paints and aerosols.
How do I get rid of hazardous waste?
DO NOT try to dispose of hazardous waste yourself as this can pose a danger to you and others around you. You should seek the service of a specialist hazardous waste removal company should you need to dispose of hazardous waste material.
What if I overload my skip?
If you exceed the maximum weight allowance of your skip, this can be a danger risk and impede transportation or halt it altogether. You should carefully read the skip size guidelines of each of our skips before choosing a skip for hire.
However, if you need help with finding the most appropriate skip to handle your waste load, contact us and a member of our team will be happy to help.
How long can you hire a skip for?
Domestic customers can hire a skip for up to 14 days from the day of delivery before we need to collect it. However, if you need a skip for longer, don't hesitate to give us a call if you have any questions at all about skip hire timeframes.
Account customers can hire a skip for up to one month from the day of delivery. If you are a business and would like to set up an account with us? Please contact us on 01204 696446, one of the team will be able to arrange this for you.
What do you do with my rubbish?
We will transport waste to our specialist 17-acre recycling and disposal facilities where we will sort through all waste and recycle them. We have a 100% recycled policy and, with the opening of our new facilities, we will be able to recycle even more domestic and commercial waste at a more efficient rate.